Prior to moving to DC and becoming a freelancer, I worked in marketing at the Greater Kansas City Community Foundation. This experience helped open doors in DC, where I was able to work on a number of projects for the Community Foundation for the National Capital Region (CFNCR). I wrote the quarterly newsletter for CFNCR for nearly three years, and also worked on several special reports and marketing pieces. In 2005, I wrote five donor profiles for CFNCR's annual report, and also worked with the president and CEO on crafting her letter for the report.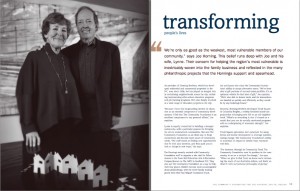 I always enjoy writing profiles, and I particularly enjoyed working on this group of profiles because I had great conversations with some really committed, visionary philanthropists who do much of their giving through the community foundation. One of the profiles was of Joe and Lynne Horning, longtime DC philanthropists who focus much of their charitable investments on neighborhood revitalization.
The biggest challenge of profiles like these is length: when you are talking with dynamic people who have been doing good work for decades, it's hard to boil it down to a one page story! However, the design concept called for full-page black and white "hero" shots, which I think were very powerful – so I was committed to the concept of crafting short profiles that conveyed key messages and worked in combination with the images on a single spread. Each profile had a key word as its title – for the Hornings, that word was "transforming." Click here or on the image of the profile to download the story as a PDF.