Viewbook for The Academy of the Holy Cross: Appealing to Girls and Parents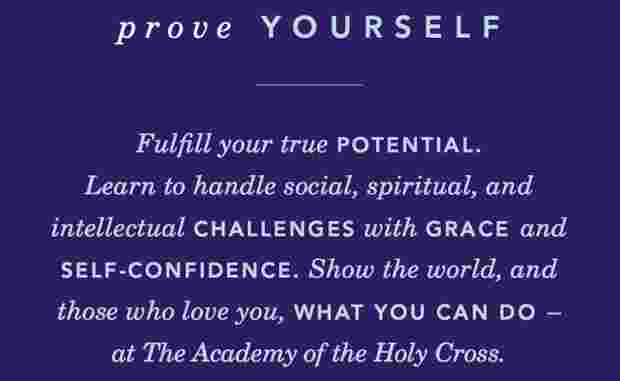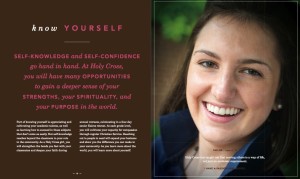 In 2012, I worked with Catalone Design to create a viewbook (marketing booklet) for The Academy of the Holy Cross, an all-girls Catholic high school in Kensington, MD. The primary challenge of this piece was coming up with a concept and copy that would speak directly to girls while also appealing to their parents.
To gain a good understanding on the school, I spent the better part of a day on site, along with Lisa Catalone, talking to groups of administrators, teachers (including several alum who are now on staff), and students. Holy Cross had not had a viewbook previously, so we really wanted to deliver a great product that would capture the spirit of the school and support their recruitment efforts.
After the site visit, I proposed several thematic approaches to Catalone to see what sparked their interest from a design standpoint, and we also ran ideas by the school's director of development. We settled on a series of reflexive headlines speaking directly to girls and built the book around that concept. The cover title is "Find Yourself Here" ( on hard copies, a small purple Holy Cross button – the kind girls might collect and put on their backpacks and jackets– is affixed in the lower-right corner).
Inside, the copy progresses through a series of headlines: Prove Yourself, Push Yourself, Surprise Yourself, Know Yourself, Surprise Yourself, Enjoy Yourself, and Be Yourself. Each headline is followed by a sentence or two of large supporting copy that conveys core messages, followed by several short paragraphs in a smaller font that provide more details about the school. These pages are paired with hero shots of actual students, and interspersed between colorful, eye-catching spreads that feature collages of on-site photography. The last page of the book provides additional information for parents, but the whole book is designed to speak to parents even as it addresses girls in the second person.
As a writer, I  love seeing my words come to life in a well-designed piece, and I'm always excited to partner with Catalone because they do such beautiful work. In this viewbook, I love the extensive use of original photography, the rich color palette, the creative design of the pages featuring copy, and the overall flow and feel from start to finish.
To see the finished product, click here to flip through the viewbook.