Marketing to Missouri: Ad Copy for D.A. Davidson & Co.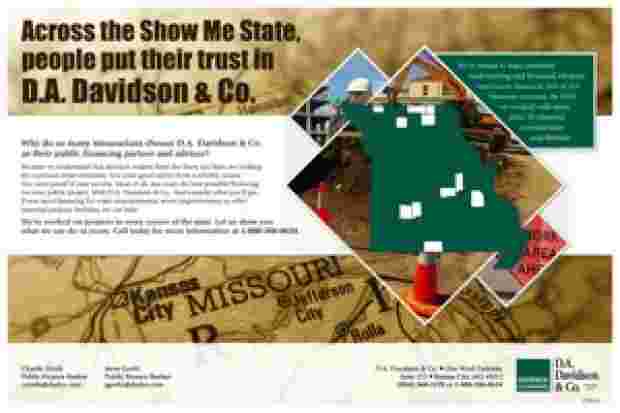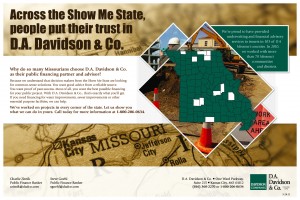 In 2011, I worked with Tacklebox Marketing on a trade magazine advertisement for D.A. Davidson & Co., a Kansas City firm that provides financing and underwriting for public projects in municipalities and water districts across Missouri.
The firm's previous ad contained a lot of great information, but it wasn't very engaging visually. We saw the opportunity to highlight some of the firm's key selling points by developing a stronger conceptual frame that would allow the words and images to work together in order to better reach the target audience.
I really enjoy working on projects like this, where the word count is limited and the challenge is to find a good hook and then choose just the right words. Since this branch of the firm only serves clients in Missouri, that allowed me to work on a Missouri-specific theme, which naturally led to the "Show Me State." Then the trick was to work with that familiar moniker without sounding clichéd (among other things, this phrase appears on the state's license plates).
I think we struck just the right balance, thanks in large part to great design work by David Tierney. The ad is a two-page spread and it conveys quite a bit of information, but the design pulls your eye to key points and keeps the ad from feeling overwhelming. I think it has great texture and visual appeal, from the sepia-colored map in the background that supports the "across Missouri" messaging, to the clean, well-balanced layout that makes the information easy to access and understand.
Click on the image of the ad to view a larger version.