You've Got Mail: Developing a Playful Postcard for HillAds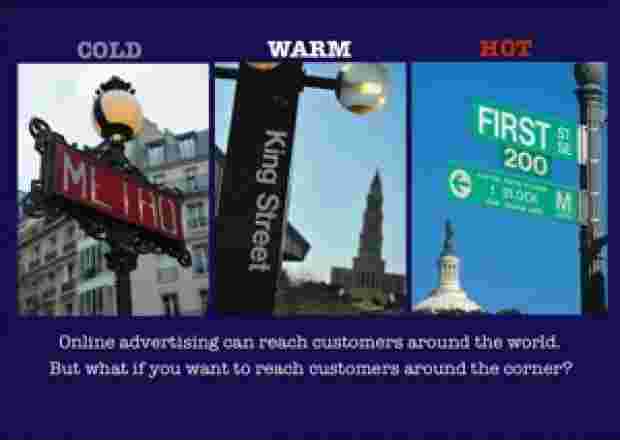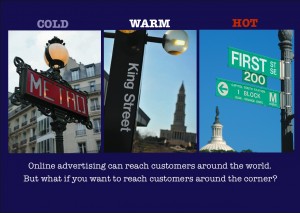 I frequently do work for my friends at DC Access (a local Internet Service Provider that offers Wifi in DC). Recently, they launched a new business venture called HillAds, which is a hyper-local online advertising network. I helped Martha Huizenga, partner at DC Access, put together a sales flier (I wrote about that project here), and then we worked together on this promotional postcard.
As with the flier, Martha wanted to lay this piece out in-house to save on design costs, so in addition to coming up with some clever copy, I was tasked with developing a visual concept for the piece that could utilize stock images. After exploring several avenues, the idea I proposed was using three side-by-side photos related to subway (Metro) stations – one in Paris, one in Alexandria, VA (part of the DC metropolitan area), and then one on Capitol Hill – to drive home the idea of HillAds being a hyper-local approach to online advertising that targets people who live and work on the Hill.
I was able to locate inexpensive rights-free photos, and I did a rough mock-up of the layout, along with the copy, which Martha then recreated and refined (including consulting with a designer about color and fonts).The result is a cost-effective postcard with a playful design that poses a question to which HillAds is the answer.
This postcard is unusual because there is no branding on the front – the business isn't named and there isn't a logo. I wouldn't always recommend this approach, but the point was to draw people in with an interesting combo of images, pique their curiosity with the copy (which focuses a common pain point for local businesses), and get them to turn the postcard over to learn about a new service that solves the dilemma posed on the front.
Click on the image of the postcard to see a larger version.