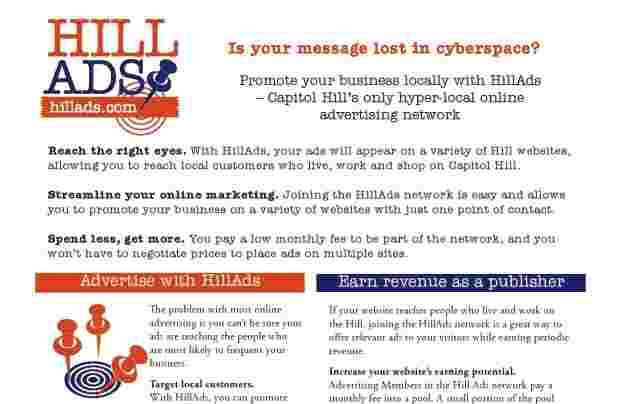 I find it particularly rewarding to help small business owners and entrepreneurs define their niche and speak effectively to their target audiences.
Recently, the owners of DC Access (a company that provides local WiFi service in DC) recruited  me to help develop marketing materials for an intriguing new business venture: HillAds.
HillAds is a hyper-local online advertising network that connects Hill  businesses that want to advertise with Hill websites that attract people who live and work on the Hill. The business is owned and operated by Matt Wade and Martha Huizenga, a husband-wife team who are successful local business owners with a strong commitment to the community.
First, I proposed a variety of possible taglines for the business. The winner was "Powered by Proximity" — which can be integrated into headlines and calls to action, such as "Tap into the power of proximity!"
Then I went to work on copy for a simple one-page flyer. The primary challenge was avoiding too much technical jargon while still explaining clearly the advantages of belonging to HillAds and the ins and outs of how it works for both advertisers and publishers. In addition, we needed a strong headline and featured selling points for those not inclined to read the fine print. In addition to writing the copy, I suggested a rough idea for the layout with my draft copy, including some proposed illustrations that supported the idea of "targeting" local customers.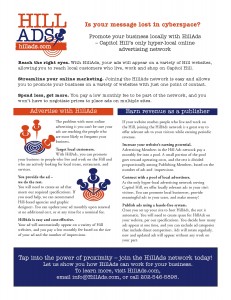 As a cost-saving measure (and because she has the tools & experience to tackle the job) Martha did the layout for the flyer in-house, but she called on graphic designer Julia Christian to create a logo, which I *LOVE* — it incorporates the business name (which communicates a lot) into a visual that captures the essence of the business through the use of a target and a push pin, which invokes the idea of a local bulletin board. Julia also selected the color palette (which complements the DC Access colors).
I'm really pleased with the final piece and hoping that it proves an effective tool for building the business. While this is a web-based service, building the clientele will be a hands-on process, and this flyer is the core piece in a sales packet.
Most of all, I love working with small business owners, especially when they are very community minded. Yes, this is a business that is designed to make some money for the owners — but it also gives local businesses a cost-effective, streamlined way to advertise online, while giving local website owners (news sites, blogs, and businesses) an easy way to earn additional ad revenue. Plus, all that money stays in the community, rather than being funneled out by one of the web-media conglomerates that are also tapping into the trend toward hyper-local advertising. In short, it's a GOOD business, and it feels good to be involved in helping it get off the ground.
Work sample: download the HillAds flyer (PDF).