Pleasing Lines: Web & Brochure Copy for WJE Healthcare Architects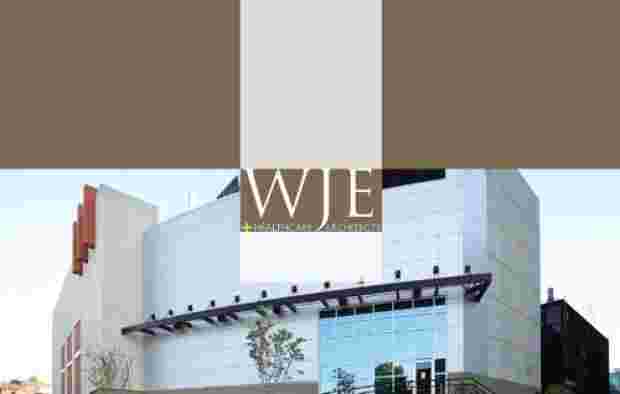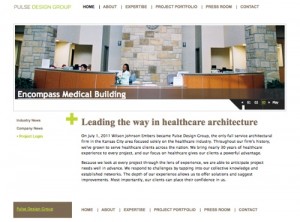 In 2007, I worked on a new website and corporate brochure for WJE Architects, a Kansas City firm specializing in healthcare architecture.
The website was designed by Matt Huggins and the brochure by Megan Hopkins (at the time, both were on staff at Spur Communications).
I really enjoyed working on this project for several reasons. First, I like it when a new website and brochure are developed at the same time. In some ways, brochure copy and web copy are two different beasts, but working on both simultaneously (or in quick succession) makes it easier to achieve consistency in voice and messaging.
Second, I think both the web design and the brochure design are exceptionally well executed. I don't have a screen capture of the firm's old website, but it was very, very, very dated (had that 1996 look…). Both the site and the brochure are crisp and professional — in fact, I think the brochure is in my "top 5" of print pieces I've worked on, as it conveys a lot of written and visual information in an elegant, engaging way. WJE needed a flagship marketing piece that would make a strong impression on potential clients and effectively convey their capabilities, and I think this brochure achieved that end.
Third, I enjoyed writing about a firm that is so well established. Writing for small and emerging businesses can be rewarding, too, but with WJE, I had a "proven product" to describe and promote. The messages about how the company works and what it can do for clients aren't aspirational — they are founded in 30 years of experience and backed up by an impressive portfolio.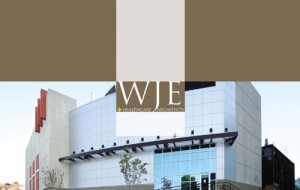 You can download a PDF of selected pages from the brochure (I took out a lot of pages that didn't have copy because it's a very image-heavy PDF – to see the brochure's design in its entirety, email me and I'd be happy to share).
WJE recently changed its name to Pulse Design Group, and this change has been implemented across the website. However, most of the copy I wrote for the site remains intact. You can visit the site or download a PDF of selected web pages that feature my writing.